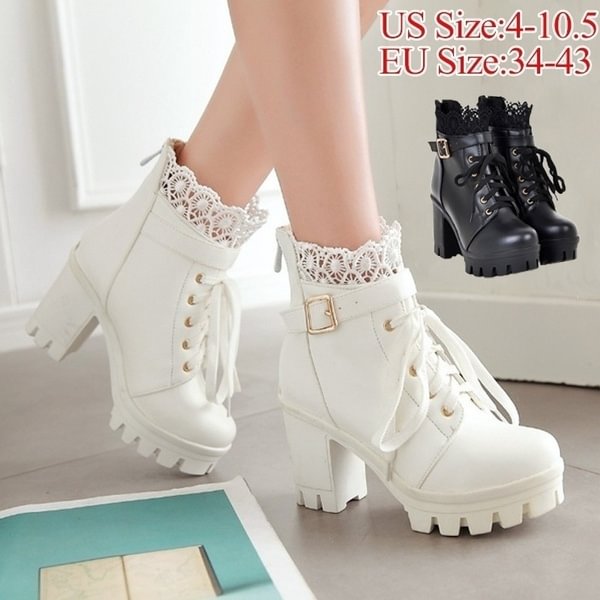 New Fashion Women's Thick High Heel Ankle Boots Ladies Leather Lace Up Martin Boots Sweet Lace Student Shoes Bottes Botines Plus Size 34-43

High Quality, Fashionable & Comfortable.
This Shoes is very fashion and popular.
Style: Simple
Color:black,white
sizes for selection:

NOTE:
Thank you for shopping in our store. In order to deliver the products, here are some tips need you to attention
1.Please before you order a product from us , make sure your address is correct,and the zip code you offer to us is consistented with the address, make sure the country you choose is correct. If there is any problem with address, we will unable to deliver the product, or the product will be returned to sender which mean you will wait longer to receive the products.
2. This product can't be sent to some places,please don't use the address like "P.O. Box "
Thanks for your understanding

Women Size:
Foot length range Shoes insole length US EUR
20.6-21cm(8.11-8.27in) = 21cm(=8.27in) =2.5 =32
21.1-21.5cm(8.31-8.46in) =21.5cm(=8.46in) =3 =33
21.6-22cm(8.50-8.66in) = 22cm(=8.66in) =4 =34
22.1-22.5cm(8.70~8.86 in) =22.5cm(=8.86 in) =4.5 =35
22.6-23cm(8.90~9.06 in) =23cm(=9.06 in) =5.5 =36
23.1-23.5cm(9.09~9.25 in) =23.5cm(=9.25 in) =6 =37
23.6-24cm(9.29~9.45 in) =24cm(=9.45 in) =7 =38
24.1-24.5cm(9.49~9.65in) =24.5cm(=9.65 in) =8 =39
24.6-25cm(9.69~9.84 in) =25cm(=9.84 in) =8.5 =40
25.1-25.5cm(9.88~10.04 in) =25.5cm(=10.04 in) =9.5 =41
25.6-26cm(10.08~10.24 in) =26cm(=10.24 in) =10 =42
26.1-26.5cm(10.28~10.43 in) =26.5cm(=10.43 in) =10.5 =43

Notice:
1. Due to the different monitor and light effect, the actual color of the item might be slightly different from the color showed on the pictures.
2. Please allow 1-3cm measuring deviation due to manual measurement.