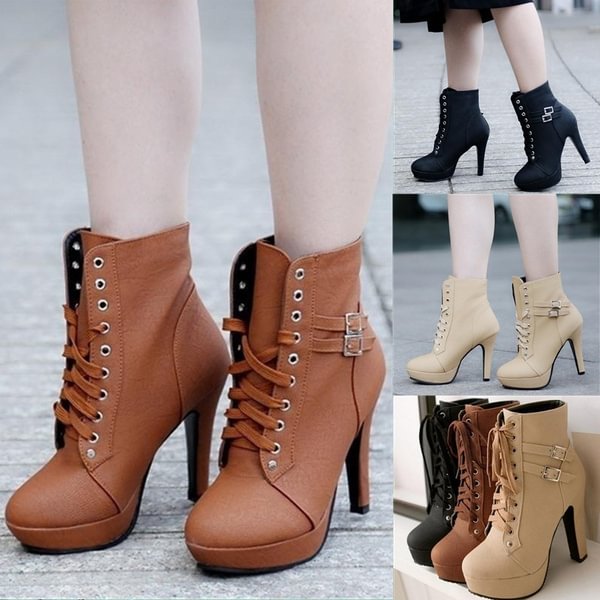 Upper Material:PU
Lining Material : PU
Outsole Material: Rubber
Heel Height: 12 cm
Boot Height: 11 cm
Platform:3.5 cm
Size Information:
EU/FR Size 35=CN Size 34= Foot Length 215-220mm/8.46-8.67in=US 4.5
EU/FR Size 35.5=CN Size 35= Foot Length 220-225mm/8.67-8.86in=US 5
EU/FR Size 36.5=CN Size 36= Foot Length 225-230mm/8.86-9.06in=US 6
EU/FR Size 37=CN Size 37= Foot Length 230-235mm/9.06-9.25in=US 6.5
EU/FR Size 38=CN Size 38= Foot Length 235-240mm/9.25-9.45in=US7.5
EU/FR Size 39=CN Size 39= Foot Length 240-245mm/9.45-9.65in=US 8.5
EU/FR Size 39.5=CN Size 40= Foot Length 245-250mm/9.65-9.84in=US 9
EU/FR Size 40=CN Size 41= Foot Length 250-255mm/9.84-10.04in=US 9.5
EU/FR Size 40.5=CN Size 42= Foot Length 255-260mm/10.04-10.23in=US 10
EU/FR Size 41=CN Size 43= Foot Length 260-265mm/10.23-10.43in=US 10.5
EU/FR Size 41.5=CN Size 44= Foot Length 265-270mm/10.43-10.63in=US 11

Note: This is not the standard US size. For example: If you order US size 6 or EU size 36.5, we will send your Chinese size 36. So please remember to choose the size according to your real foot length.
If your foot is wider than normal, then please choose one size larger.